A Library Orientation establishes our year-long relationship with students (and teachers), so we need an engaging lesson. The typical presentation of 2-3 dozen slides, covering all aspects of library organization and rules, is NOT it! That just puts kids to sleep with details they won't remember and wastes everyone's valuable time. Instead, we need to minimize information and give students a purposeful hands-on experience.
PURPOSE OF A LIBRARY ORIENTATION
A purposeful Library Orientation will simply introduce locations to find a particular resource so students can check out their first book. This is very different than explaining what students will find inside those resources, which is another lesson altogether! What exactly are library "Locations"?
I name areas of our School Library according to what's on the spine labels of the materials:
the "Dewey area" has Dewey-numbers on the spine labels
the "Fiction area" has FIC on the spine labels
the "Biography area" has B on the spine labels
the "Reference area" has REF on the labels
the "Magazine area" has MAG labels
the "Audio area" has AR labels
the "Video area" has VR labels
(the Computer area explains itself)
I tell students to think of a grocery store: there are areas for Produce and Frozen Foods and Meat and Dairy; you know you can locate those types of food in those locations. Likewise, in our School Library you can locate a Dewey book in the Dewey area, or a Fiction book in the Fiction area, or a Magazine in the Magazine area, a DVD in the Video area, CDs & Playaways in the Audio area, or you can search the Online Catalog in the Computer area. It's very clear to students that you are referring to a location in the library at which to find those types of materials.
This terminology also helps students associate search results in the Online Catalog as the location of the material in the library, without having to explain what "call number" means. I just call it a "locator." I'm also able to create special collection groups such as Careers, Multicultural America, or Fiction Subjects without confusing students—they know it's just another location in the library for specific materials.
Focus Orientation on Location, not content, and students are not confused about the Dewey area. I never refer to the Dewey Location as 'non-fiction' or 'informational text'—those are terms for what's inside the container—so I never have to explain why fictional poetry or folklore are in the Dewey area.
Students learn that, regardless of what's inside the resource, 'locators' in the online catalog and spine labels on the materials are simply a location mechanism. Even if they visit a library that doesn't follow our classification scheme, they can still quickly and easily find something by using the 'locator' to find the area with matching spine labels.
WHO TO INVITE FOR LIBRARY ORIENTATION
Many English/Language Arts teachers begin the year studying narrative literature, so it makes sense to invite their classes to visit the library during the first 2 weeks of school to check out Fiction books. Since that establishes the purpose of the visit, I focus Library Orientations on reading and the Fiction area of the library, giving students a way to choose a good book and then giving them plenty of time to do so. Eliminating everything else from orientation gives students a pleasurable and purposeful visit, and ELA teachers become avid supporters, returning with their classes every other week for book checkout!
My Fiction area is organized by Subject, such as mystery, fantasy, adventure, and historical fiction. I don't use the word genre because in ELA Standards genre refers to types of literature, like narrative, poetry, drama, etc. Using the term Subject to identify different kinds of stories aligns with MARC records when cataloging, with LOC CIP data inside the book, and because we tell students to do Online Catalog Searches by Subject for the kind of story they want to read. Because students already associate Subjects with school and even with the Dewey area, they readily understand what I mean by "Fiction organized by Subject," that is, each Subject has its own special location.
Since I carefully avoid using the term genre for books in the Fiction area, ELA teachers appreciate that I don't confuse what they are teaching students!
CUSTOMIZE GRADE-LEVEL ORIENTATIONS
I customize a Library Orientation for each grade level so the lesson I have for lowest-grade-level students, who are new to our school and library, is very different from lessons for higher-grade-level, returning students who just need something to rekindle their interest. I have a relevant activity and reading choices aligned with curriculum, so each grade level has a unique experience and I can use the same Library Orientation Lessons every year.
'Newbie' 6th graders learn how to navigate Subjects in the Fiction area, how to choose a good book, and about my standardized procedure to check out their book. 7th graders have a Scavenger Hunt to review various locations throughout the library. 8th graders have a Fiction Subject 'tech integration' lesson using smartphones to view video book trailers.
CONTENT LESSONS ARE WHAT'S 'INSIDE'
Simplifying my Library Orientations to focus on location has allowed me to invite other subject teacher's classes to visit the school library for content-oriented lessons that enhance classroom activities and encourage wider use of our library collection.
For example, 6g and 7g Math classes visit the library for Dewey Decimal Lessons that focus on Location—where different decimal numbers are located in the library. Why Math? My lesson gives them a fun review of what they should know as they begin their decimal unit; Math teachers appreciate that we activate prior content knowledge to prepare students for new content, and they can readily see who may need extra help to catch up. This lesson is early enough in the school year that it's also an 'orientation' to the Dewey area so students can begin checking out those books along with their ELA fiction choices.
Students in other subject area classes typically visit the library to find information for assignments, so those lessons are based on the content inside the library materials as it relates to the purpose of the visit. I use the grocery store example to explain the difference to students:
What's inside each container on a grocery store shelf varies according to its purpose, so the Dairy area of a grocery store has containers labeled eggs or milk or cheese or butter or yogurt. What's inside each 'book container' in the Dewey area also depends on its purpose: a Dewey book is labeled according to the information inside: poetry, folklore, cars, countries, or animals…even imaginary beings like unicorns; also, in the Computer area we can access e-books and online subscription services that have information inside for curriculum-related assignments and research.
This content inside analogy allows me to introduce books in Dewey Subject numbers and online databases related to the reason for the content area visit, and to teach students to think about how they would label a container in order to create search terms for content in the online catalog or databases.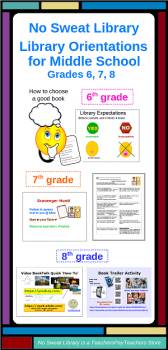 My customized Library Orientations are available in No Sweat Library, my TeachersPayTeachers store.
Each grade is available separately or choose the 3-grade bundle to save!