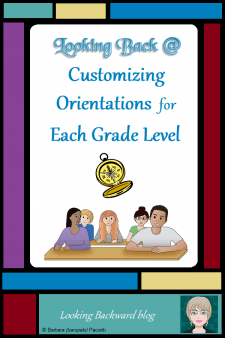 We all give a library orientation to our lowest-grade-level, new-to-the-school students so they can learn about their "new" school library, but how many of us have one for our returning students? A library orientation customized for each grade level is a powerful way to connect with students and teachers at the beginning of the school year. I discovered very quickly that the effort I expend on higher-grade-level orientations generates multiple benefits throughout the rest of the school year.
Advantages of Customized Orientations
The first library visit influences a student's attitude toward subsequent visits during the remainder of the school year, so with our returning students we want to rekindle interest in the library. Since so many schools now have a high level of student transience—mine is 34%—we also need to introduce the school library to a lot of brand new higher-grade-level students.
New grade level = increased maturity + new subject content. Customized orientations can introduce students to new reading choices aligned with their new grade's curricula and their changed interests, especially topics or formats they may not have noticed before.
At the start of school—before benchmarks, testing, etc.—teachers are more willing to give up a whole class period for an orientation. Customizing allows us to meet the needs of the subject area whose teachers consent to a visit. In my case, ELA teachers want students to check out a fiction book, so my library orientations focus on reading and narrative literature, but I've done orientations with Social Studies, with Science, with World Language, and with Careers classes!
Relevant lessons stimulate teachers to consider more library lessons. My ELA teachers so appreciate how my orientations support their curriculum, that when their unit of study changes—first to expository literature (non-fiction), then to persuasion, and finally to poetry—they allow me to give a Library Lesson at the start of each unit, and even some appropriate short lessons at later visits during the unit. I always include a classroom-related activity for students to practice what they learn.
My ELA Reader/Writer Workshop Unit lessons
are available in my No Sweat Library Lessons TPT store.
Finally, because my "returnee" orientations are unique to each grade level, I use the same orientations every school year. With so many demands on a school librarian at the start of school, this time-saver relieves stress about having to develop first-visit lessons.
What To Do; What To Avoid
The key to a successful "returnee" orientation is to give students a stimulating, interactive, hands-on activity that is completely different from their previous grade's orientation. It should also revive prior knowledge or give a new perspective on the library and/or its resources.
Don't bore returning students with rules and procedures they already know. Summarize information on a Library Bookmark to be picked up at checkout. Give top grade level students a Library Brochure with resources for larger projects and planning their future. These two library info tools save time to allow for longer, more complex activities with higher-grade students, yet guarantee any new students learn our library expectations and can ask us specific questions later on for clarification.
A new school year brings excitement but also apprehension. To relieve new-grade-level uncertainty, provide a familiar structure to returning student orientations. Of the 4 segments for any of my Library Lessons—direct instruction, modeling/guided practice, independent practice, and sharing/reflecting—I keep 3 of them the same as these students have already experienced:
Direct instruction for all student orientations is a review of safety procedures for fire drills and code Red—they're too important to omit—and library expectations, which for returning students is simply holding up the bookmark or brochure they'll get at checkout.


a

Independent practice during any regular book checkout visit includes students browsing the shelves and choosing a fiction book they can enjoy reading. Since this is the reason the teacher brings them to the library for an orientation, I'm diligent to give students plenty of time to fulfill that purpose.


a

Sharing/reflecting for any regular book checkout visit is our standard checkout procedure where students read quietly while I invite each table to check out their selections. I encourage students to reflect on their book choice as they begin reading their new book so their book choices improve and their sustained reading time increases.
By maintaining consistency, I need only customize the modeling/guided practice segment of each grade's orientation and allow returning students to fully engage in, and enjoy, this new group activity.
Sample Till Successful
We may need to try several orientation activities before discovering those that work best for our particular students.
In-the-middle grades need reminders about what they learned the previous year, presented in a fun new way.
Our highest grades need to see the library in a new way, a different perspective. They are the perfect "guinea pigs" to try out big changes in organization, materials, facility arrangement or technology.
Even after settling on the perfect lessons, be open to a new activity that might prove more engaging or relevant for a certain grade level. If you are a middle school librarian, the following ideas, which I've tried at various times, might work for you.
Seventh graders enjoy interactive game-like tasks that allow them to talk or move around. Library Bingo, Library Jeopardy, Scavenger Hunts, and Breakouts are all activities that refresh their library knowledge while constructively fulfilling their need for socializing. I do a Scavenger Hunt.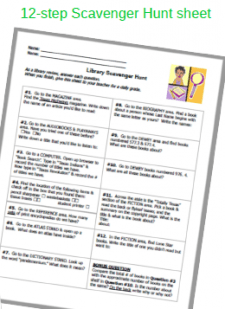 My 7g  Scavenger Hunt reviews various library locations, features new formats of reading materials students may have overlooked, and introduces books related to grade-specific subject content, like topical Dewey books for their first two Science units and the Totally Texas Collection of fiction and non-fiction books to support 7g Social Studies. It does get noisy, but students have a fun review, don't get bored, and the Hunt sheet is handed in for their daily grade.
(Clipboards for students to write on are invaluable for this activity.)
The key to a successful scavenger hunt is to have the same number tasks as library tables. Each group begins with the same numbered task as their table number, which takes students to different library locations and avoids jostling and overcrowding.
Eighth graders prefer sophisticated tasks that entail analysis and application, and provides guidance but not overt supervision. Speed Dating Fiction, Progressive Dinner of Tasty Reads, Breakouts, Playlists/HyperDocs, and Viewing Book Trailers with QR codes are all popular with this age. Using QR codes to view Book Trailers finally captured my 8th graders attention; I give details about it in an earlier post.
I briefly show students how easy it is to make a video book-talk using copyright-free pictures and an online video creation tool, then play my 40-second sample. Since the first ELA project is a video book-talk, teachers appreciate my "sneak peak" to get students excited to do their own. Several book trailers provide an introduction to new reading choices appropriate to 8g maturity and curricula, particularly specially selected high school State Reading List books and the Read America Collections of fiction and non-fiction books to support 8g Social Studies.
Get Teachers on Board!
After my 3rd year success with Customized Library Orientations, I never had to convince teachers to bring their classes to the library at the start of school. In fact, they'd seek me out the week before school began to schedule them.
As teachers realized my Library Lessons would be developed to coordinate with their classroom content activities, others also asked for early-in-the-school-year visits to familiarize students with library resources. For a few years I offered a 4-part Library Orientation with ELA classes for fiction books, then Math classes for Dewey books, followed by Science and Social Studies for topical books and online resources! I even had Spanish and Art classes in for early visits!
To get teachers interested, I simply look at the first few weeks of everyone's curriculum, find which classes can benefit from a library visit, then create inviting lessons the teachers can't resist. I know you can do the same…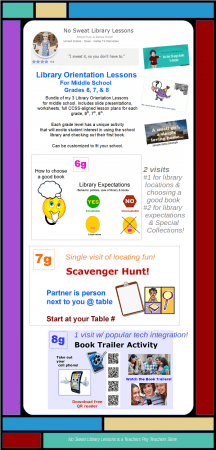 Get my 7g Library Orientation or 8g Library Orientation through my NoSweat TPT store, or save with the 678 Orientation bundle. You might also like my Reading Promotion for ELA and Social Studies package.