As a middle school librarian I've accumulated or created numerous learning resources. On this page I share the best of them with you.
FREE for download:
(PDF files can be viewed before downloading; DOC files are direct download with no previewing.)

Problem-SolvingModelsComparison Chart
Internet Laws in a Nutshell as PDF
Digital Citizenship Resources Lesson Planner
A PDF file of the IT IS FOR ME checklist
with 4 "apps" per sheet.
Used with the video "How to Choose a Good Book"
(links listed below)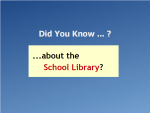 Teachers, Did You Know?
a PDF download of a PPT presentation
giving facts about how a School Librarian
impacts student achievement.
Links to Videos on other websites
On Animoto:
My Example Book Trailer
Visit the BBMS Library
Night of the Notables 2012
On Vimeo:
How To Choose a Good Book
The Library Secret (All Our Books Have Legs)
Sight-Site-Cite
On YouTube:
How To Choose a Good Book
The Library Secret
My Example Book Trailer
Sight-Site-Cite