School librarians do whatever is necessary to promote reading (as in organizing fiction by Subjects), and organizing books so students can easily find curriculum-related content boosts reading and content knowledge. A fellow librarian, Kathy Cunningham at Blalack Middle School in Carrollton TX, gave me the brilliant idea to put books into Special Collections to support our middle school Social Studies curricula. After seeing her special collections of books for 6th, 7th, and 8th grades, I was inspired to do the same in my middle school library.
All 3 collections contain fiction and non-fiction books, with special stickers under or on the spine label to make it easy for students to find them and for helpers to shelve them. Allow me to explain how I chose which books became part of the Collections, and where I decided to shelve them so they were distinct from other books, yet still part of the main library collection.
GLOBETREKKER FOR 6G WORLD CULTURES
To identify fiction books I ran reports by Subject for each continent and its countries. For nonfiction, I chose Dewey books related to countries and cultures from 000s-999s. I didn't include any folktales because 6g ELA teachers do a multicultural folktale unit, nor did I include country "facts" books from the 900s, but I did pull any cultural titles and natural wonders found there.
Our students study countries by continent, so I put a colorful continent sticker on each one, as you can see in the image below. (My friend used Demco's color-striped circles mounted horizontally to simulate a flag.) I also added a Demco transparent circle on top of the spine label—pink for fiction, teal for nonfiction.
I located the GlobeTrekker collection near the door to the 6g hallway. It was especially gratifying for me to see kids checking out cultural books from the 300s, art books from the 700s, and natural wonders from the 900s that were "invisible" in their original locations. Kids told me how much they liked all the "new" books I'd gotten for them!
With so many 900 cultural books moved to GlobeTrekker, I had room to place all the non-U.S. country books together for 6g Social Studies, that is, I moved the 980s & 990s into that aisle at the end of the 972s. With colorful signs placed on the shelves to clearly identify each Continent and shelf labels to identify the country numbers, browsing for countries books in a single aisle is easier and reading those has also increased.
6g kids don't notice the gap in the numbers from 972 to 980,
but I did put a sign there to indicate that all 973 U.S. books are in the next aisle.
TOTALLY TEXAS FOR 7g STATE HISTORY
Middle school doesn't study individual states except Texas and there was little interest in them, so, except for 976.4 books for Texas history, I donated individual State books to an elementary. There are now no 974-976.3 nor 976.5-979. (Current states info can be found from our online subscription services.)
To complete the Texas Dewey section, I added Texas-related books from 000s-800s, including Texas folktales, as well as some short Texas biographies.
(I did change call numbers for TX geography and historical periods,
and "modified" numbers for Texas cultures, folklore, food, & music.)
I put a Texas outline label under the spine label with a transparent green "Star" on top of the spine labels. Seventh graders quickly discovered the new Totally Texas section, and just like with 6g, the 7g kids were checking out books they'd never noticed before.
As explained above, removing countries cultural books and moving 980-999 to the 972 aisle opened up extra shelves at the end of the 973 U.S. History section for the additional 976.4 Texas History books. Since our Fiction area begins right across the aisle, I moved Texas Fiction books—stories that take place in or deal with Texas—across the aisle from 976.4, thus bridging Texas Dewey & Texas Fiction to make the end of that aisle truly Totally Texas!
READ AMERICA FOR 8g U.S. HISTORY
When I got rid of state books, I did keep those that were topical to overall U.S. History and changed their call numbers to place them in a 973 number. All the U.S. History books are now together by geography or by historical period.
Books about the 13 original colonies became 973.2 Colonial America with their 2-letter State Postal Code instead of author letters.
Books about natural wonders, historical landmarks, and national or state parks were changed to 973.091, the DDC  number for geographical treatment.
Books about significant U.S. events were changed into the 973.2-973.9 historical U.S. time period in which they happened.
Our Fiction books for the time periods studied in 8g U.S. History had already been labeled with an Historical America sticker, so I moved them to shelves next to Texas Fiction so they are across from the 973 nonfiction books. Now our Read America fiction and nonfiction also "bridge" across the aisle from each other, and students are checking out more U.S. History books than ever before.
To complete the identity of Read America and Totally Texas, I hung a huge U.S. map on the wall at the end of the aisle, and added new signage for the "History & Historical Fiction" aisle.
PROMOTING
SPECIAL
SOCIAL STUDIES COLLECTIONS
The real pièce de résistance was at the beginning of the next school year when the Social Studies teachers asked to have a special "orientation" for the new Social Studies Special Collections! Here's a synthesized slide presentation I gave to introduce each grade level's Social Studies classes to their Special Collections.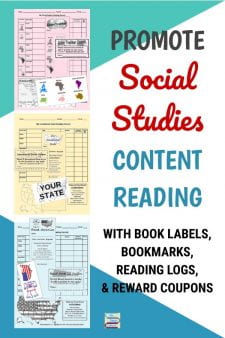 To promote the reading of GlobeTrekkers, Totally Texas, and Read America, I created special bookmarks for students to comment while reading, along with Reading Records for students to paste into their Social Studies Interactive Notebooks for recording books read. When students reach their book reading goal—which varies by grade level—they receive a Social Studies coupon to add 5 points to any Social Studies quiz. I've packaged these up for you in No Sweat Library, my TeachersPayTeachers store.