For more than 20 years, the School Librarian has been regarded as a "tech guru" in education. We quickly brought digital devices into our libraries (computers, iPods, iPads, Kindles), and promptly implemented digital & online information services (library catalogs, databases, e-books); early on we were organizing Internet/WWW resources (Librarians Internet Index, a Gopher site, migrated to the Web in 1994; Internet Public Library opened in 1995; my own DeweyLinks premiered in 1998).
Teachers are now more digitally proficient, yet the School Librarian remains the person others come to when they need guidance with hardware, software, or cloud computing. We must continue to master new technologies and tools if we are to remain indispensable. Digital Curation Tools is one area that challenges us to keep up with changes.
WHAT IS DIGITAL CURATION?
When Future Ready Schools launched Future Ready Librarians to promote school librarians as leaders in digital learning (6/24/16 press release), their Factsheet lists curating digital resources under Curriculum, Instruction & Assessment. Accordingly, digital curation is selecting, organizing, integrating, and sharing digital resources to support teaching and learning, and helping students and teachers develop digital curation skills. We've been doing this all along; we just had different names for it. Now that we have a common term to use, it will be easier for us to know just what we need to do, and for us to implement its training with students and colleagues.
The difficulty for school librarians, with our budget constraints, is to find FREE web tools to serve our curation needs. Over the past several years so many online curation tools have appeared that we now need to curate the curation tools! In a 2012 online infographic, Joyce Valenza, classified 24 tools into 3 groups. (right)
A 2012 online article by Nikki Robertson grouped 9 tools a bit differently:
"Curation tools can include online social-bookmarking services like Diigo, Delicious, Digg, Reddit, and more visually oriented bookmarking services like Pinterest and Symbaloo. Then there are hybrid curation tools that not only enable bookmarking, but also allow us to create visual stories (Storify) and customized magazines or newspapers (Scoop.it and Paper.li)." (p.E1)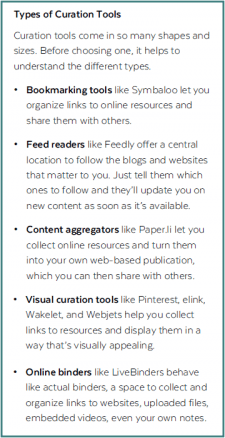 My personal resource for tech tools is The Teacher's Guide to Tech by Jennifer Gonzalez of Cult of Pedagogy. I highly recommend this PDF categorizing hundreds of educational technology tools (updated each year). Under "Content Curation" Jennifer groups curation tools into 5 easy-to-understand types. See the image at left for the groups she uses.
Thanks to this guide I use Feedly twice a week to keep up with 50+ librarian and ~100 teacher blogs, and it's a vast improvement over what I used to use. I also use Pinterest regularly, and I'm building up a nice little reference area for myself and other librarians. Visit No Sweat Library on Pinterest for my curated School Librarian resources.
I just cannot seem to make the decision about which, of the 37 different tools I have bookmarked in my browser, I'll use for curating my dozens of personal browser bookmarks. Diigo is a strong contender, but I also like Draggo and Elink and …and …oh, my, I just don't think I can handle so many decisions in one day!
CURATION TOOLS FOR SCHOOL LIBRARY LESSONS
DeweyLinks is my collection of curriculum-related websites for Grades 6-12 students and teachers, organized by the Dewey Decimal System. It was offline for a couple years, but now it's on Edublogs, organized as a group of webpages, with a page for each main Dewey Class.
I want to put it on a more visual platform, and Symbaloo might be what I need—it packs numerous visual links into the smallest space possible and can provide separate tabs for the Dewey Classes. One thing I learned from the The Teacher's Guide to Tech is to take advantage of a site's video tutorials. Using a Symbaloo tutorial I began to import each DeweyLink page into it's own webmix, as well as import all the loose links intended for DeweyLinks that I'd bookmarked in my browser. Symbaloo also provides a way to group several "tiles" on the same topic into a smaller space, which will be ideal for something like folklore or environmental issues or history, which have so many websites. I'd expected the transition to a new platform to take much longer, but this FREE online service is making it so much easier!
As a school librarian I've created a number of Resource Lists for classroom projects (some librarians call them Pathfinders). Since the number of links is far fewer than DeweyLinks I want a more visual application that shows a bit more of the site page. There are several to consider, and I like Wakelet, Padlet, and Scoop.it a lot.
For my 6g Essential Literacy Unit – Reading Informational Resources, the School Librarian bookmarks articles from one of their library's subscription services so students can create an Informational Poster. If the librarian has limited resources or time, I created an alternative using a digital curation tool—a private Padlet of ~30 short articles from free educational news sites, like CommonLit, Dogo News, Smithsonian Tween Tribune, Time for Kids, and The Why Files. Student partners choose an article and use 5 index cards for their poster:
an introductory paragraph in their own words
a quote from the article with the proper citation
a paraphrase from the article with the proper citation
a final summary paragraph of the article
the bibliographic citation card.
Among the FREE curation tools, I chose Padlet because it offers columnar organization and displays a photo/image as a link to the article. Also, I can add a title and blurb if they don't display from the article source. Being able to use this free curation tool for one lesson in the unit makes my product especially appealing for busy School Librarians who need such a lesson quickly and inexpensively. You may find it valuable, too.