Educators are sharers, and School Librarians are super-sharers as evidenced by the 11,000+ members of LM_NET listserv. Through my 13+ years as a Middle School Librarian I've created documents for Library Lessons through online service providers and freely offer these links and documents to other School Librarians who need new ideas.
After retiring I began to update and save my Library Lessons and administrative documents to Google Drive, which was openly shared with anyone to whom I sent the links. Then I realized I could earn some extra retirement money by selling my lessons on Teachers Pay Teachers.
Their goal is "to make the expertise and wisdom of all the teachers in the world available to anyone, anywhere, at any time" and they provide an online "marketplace where teachers share, sell, and buy original educational resources."
I established a brand—"No Sweat Library Lessons"—and since TPT asks sellers to give away their first upload, I offered, for free, my Library Lesson Planner Template which I'd amalgamated from the best of other planners I'd used over the years. For a small charge I also offer my Library Orientations and other lessons, and I'm adding more as I update lessons to current NSLS standards.
Now lately I've been pondering the growing trend toward Open Educational Resources. What is OER? First proposed at a UNESCO conference in 2000, it became reality a year later when Massachusetts Institute of Technology (MIT) put their 2,000 courses online. Making this university-level content available began what the MIT president called "the global intellectual commons" and since then more than 300 colleges and universities around the world have contributed OER courseware and materials. The purpose is best expressed on the Open Education Consortium-About Us webpage:
…probably the most basic characteristic of education … is sharing knowledge, insights and information with others, upon which new knowledge, skills, ideas and understanding can be built. Open Education combines the traditions of knowledge sharing and creation with 21st century technology to create a vast pool of openly shared educational resources.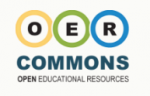 Public K-12 education has stepped into the OER movement through the OER Commons, which offers over 40,000 items for primary and secondary educators. Most importantly for us, the Open Educational Resources initiative doesn't just mean access to free—as in no-cost—materials but it also means free as in openly licensed, that is, teachers or students can copy, modify, and redistribute OER materials! As a partner with FutureReady Schools and FutureReady Librarians, OER Commons promotes research-based and personalized lessons that comply with ESSA and with Common Core ELA and Math Standards, NextGen Science Standards, the C3 Framework for Social Studies, and AASL National Standards for School Libraries.
So, now I'm very conflicted. Do I want to spend time developing a marketing brand and strategy to generate a supplemental income from TPT or do I want to remain faithful to my inherent desire as an educator/librarian to freely share my materials with others? I'll have to put in the work to update stuff regardless of which I choose, and since I'm no creative artist I'll also need to use openly licensed graphics either way. Which brings me around (finally) to the point of this blog article—to give something away.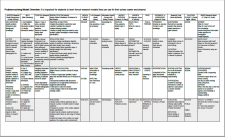 Problem solving skills are needed for so many decisions we have to make as students and as adults. It's our responsibility as educators to prepare students for the variety of problem-solving and decision-making circumstances they will encounter, not just for current classwork—especially project-based learning—but throughout their education, career, and life. I've discovered that problematic situations vary, so each one requires a slightly different method to arrive at a solution.
Several problem-solving models are common to education and each is touted by creators and supporters as the best one. I created a grid comparing 14 different Problem Solving Models in order to determine the best one for the problem at hand. I taught at least 2 different PSMs to my middle school students each year that I had them, so I felt confident they would be able to approach each new problem with a reliable decision-making strategy. Please feel free to download my free Problem Solving Models Comparison Chart PDF as a reference tool for research, design, projects, and other assignments that need information and decision-making.
Now I have another decision … which model help me to determine how to distribute my Library Lessons and Library Management documents between TPT vs. OER …
---
Update: 11/23/17
Some more OER online sources:
The 5Rs of OER: Retain, Reuse, Revise, Remix, and Redistribute. Some examples include:
Retain: House them in a digital cloud space, such as Google Drive.
Reuse: Once in a digital cloud space, the teacher has access to frequent use as needed.
Revise: Teachers make edits so that the content best fits the readiness needs of their students.
Remix: In some cases, content is taken from one source like a lesson or online textbook, and merged into something completely different, such as a video, which is more accessible to the learner.
Redistribute: Acquired resources can be shared with as many people as desired, without a cap on numbers.