Educators have known for years that student projects are great assessment strategies, but the current trend in project-based learning shows us that projects also provide a superior learning environment for students—they are more engaged in critical thinking, their learning is contextual instead of disparate, and they make more authentic connections to the 'real world'. Since many teachers struggle with PBL, I'm revealing the very best way you can make Project-Based Learning more successful: collaborate with your School Librarian! 
A BIT OF BACKGROUND
An Edutopia article Project-Based Learning vs. Problem-Based Learning vs. X-BL, by Buck Institute for Education (BIE) Editor-in-Chief John Larner, states that "The term 'project learning' derives from the work of John Dewey and dates back to William Kilpatrick, who first used the term in 1918," and "The use of case studies and simulations as 'problems' dates back to medical schools in the 1960s." Thus there is a rich background for the success of PBL as a learning system.
According to Larner and BIE, project-based learning has an array of new monikers that take various forms, but it is primarily an "extended learning experience" that may include one or more of the following:
"investigating a topic or issue to develop an answer to an open-ended question"
"solving a real-world problem (may be simulated or fully authentic)"
"designing and/or creating a tangible product, performance or event."
According to Larner, PBL et al. falls under the general category of inquiry-based learning—which also includes research papers, scientific investigations, Socratic Seminars or other text-based discussions, etc." (Nice to know those research papers we've been assigning all these years are still relevant!)
HOW YOUR SCHOOL LIBRARIAN CAN HELP
If you've been reluctant to try PBL or had a bad experience with it, here are 5 ways your School Librarian can be an invaluable PBL partner:
Teachers can gain confidence for doing Project/Problem-based Learning by collaborating with their School Librarians. If you are a Teacher, now is a perfect time to visit with your School Librarian about planning PBL lessons for the coming school year.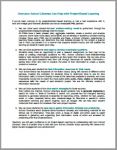 If you are a School Librarian,  here is a downloadable PDF document to share with your teachers of this article's 5 Ways you can collaborate with them for some exciting Project-Based Learning experiences for students!