Professional development conferences and workshops offer opportunities for educators to get together and grow their craft. During my 9 years as an Alternative HS Science Teacher and 13½ years as an IB Middle School Librarian I attended several professional conferences:
Some of the above I attended just once, but some are so valuable I attend every year. I can honestly say that I have learned abundantly at every single one. Even when attending a session on a topic with which I am very familiar, I always pick up some nugget of value that I can take back and use with my students. And, of course, there is always the Vendor Hall which is lined with curriculum, tech tools, and fun activities and accessories!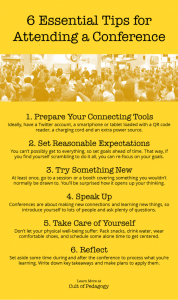 In a vendor drawing at one CAST conference I won a combination aquarium that had fish, frogs, and plants. It was fascinating to my students for several years and when I moved to the library I donated it to another science teacher (only because I couldn't find a convenient place in the library to plug it in!).
BTW, if you're planning to attend a conference anytime soon, at right is some great advice from Jennifer Gonzalez of Cult of Pedagogy. (click on the image to enlarge it)
Memorable Sessions
I have three "most memorable" sessions from conferences. The first was at NSTA in a room with perhaps 50-60 people. The presenter came to the podium and started with, "Raise your hand if you've ever gotten a job because you passed a state test." Not a single hand was raised, but there was a lot of laughter. That was just the beginning of the standardized testing trend, but the comment has stayed with me, so whether as Science Teacher or School Librarian, I make sure lessons focus on practical application of concepts to our normal everyday life.
The second "memorable session" was at a TLA conference where I attended a presentation by Joyce Valenza and in attendance was Shonda Brisco—my two Librarian gurus were in the same room and afterward I met them both! I was so in awe of these two red-headed library-tech mavens that I could barely find words—which is pretty rare for a blabbermouth like me!
The third was when I presented at a TLA Conference in Dallas back in 2002. The WWW was still young and librarians were anxious to "get online." I presented "How to Build a Library Web Presence with Netscape" during the Net Fair. It was a very rewarding experience and I was able to help some folks develop their library websites during the hands-on session following my 20-minute presentation.
Professional Learning Workshops
While the excitement and camaraderie of conferences is extraordinary, I feel it is surpassed by the benefits of professional learning workshops. These are single- or multi-day sessions that focus on a particular topic or develop specific skills. More than training sessions, workshops help us develop actual lessons that we can implement when we walk into our classrooms.
I attended a couple science ones and, as a middle school librarian, attended International Baccalaureate® and Texas IB Schools workshops as well as a local workshop sponsored by ALA to help librarians integrate more reading into their schools. Every year I attend a Library Expo, sponsored by our 2 regional Education Service Centers and 3 of our local school districts. This 1-day event has a morning and 2 afternoon workshops, with a Vendor Fair throughout the day.
The sharing that takes place during these workshops is very personal and allows for deeper discussions that aren't possible during a large conference. I also have more continued interactions with colleagues I meet through workshops than through conferences.
Best Event Ever
Hands down, the best event I've ever attended didn't have much to do with education: a 1-day course by Edward Tufte on "Presenting Data and Information." Once I heard about and read his Visual Display of Quantitative Information book, I had to get his (at that time) other two, Envisioning Information and Visual Explanations. This man is a master of putting complex statistical information into a graphical display that makes sense for everyone, so when I learned he'd be in Dallas, I couldn't resist signing up.
Tufte collects old books, and during his presentation he showed us a ~400-yr-old reprint of Euclid's geometry—with little foldables that were still glued to the page (Elmer's & SuperGlue, take that!)—and Galileo's History and Demonstration Concerning Sunspots from 1613. One of his graduate students had scanned the sunspot pictures and made them into a video; as he showed it to us I realized I was looking at our sun 400 years ago, just as Galileo had seen it! Yes, best event ever!
[You can see this yourself on Academo.org!]
The Future of Professional Development
Web presence is, I believe, the key to conferences continuing to enhance and improve education. With travel and hotel costs rising and school budgets shrinking, online conferencing is increasing every year. This isn't just Twitter-ing about what's going on at a regular conference, but rather holding an entire conference online through virtual connections and chat sessions. Many of these are for local or state educators, which increases their value for standards-based application.
Even more abundant and popular are online workshops and courses. Video presentations and discussion forums (or Facebook groups) with loose or self-paced schedules provide educators a worldwide learning opportunity; digital badges can be earned and displayed as part of our professional portfolio along with the online documents we've created from the learning.
This summer I'm taking 4 online courses: one to better integrate technology into my Library Lessons, one to create better videos and presentations, and 2 to enhance my online presence through Pinterest and Twitter. The cost and flexibility of these courses is very appealing, but we have to be sure we are really getting a quality learning experience, so getting recommendations from colleagues is essential. I've already learned a lot more than I anticipated, and am excited to see what I can contribute to educators when school begins in the fall!