Previously I offered 3 Strategies for a First-Time School Librarian: learn everything, listen to everyone, and leave things as they are. Today I want to share 3 more strategies for a New School Librarian that focus specifically on Library Lessons:
use my FREE Library Lesson Planner Template
partner with the local Public Library's Youth Services Librarian
follow simple Classroom Management Procedures to handle your larger learning space and student groups.
THE NO SWEAT LIBRARY LESSON PLANNER
When we become a School Librarian we don't stop being a Teacher, in fact, we take on a larger responsibility: to teach a wider variety of literacies through integration into all school subjects. Another adjustment from classroom teacher to school librarian is that we won't see students day after day for lessons; most of the time we have a single class period to inspire and influence their learning. Due to these differences, the typical lesson planner used for classroom instruction is unsuitable for planning library lessons.
Yes, a lesson plan for library visits. I learned pretty quickly, that if I wanted the principal and teachers to regard me as a teaching professional, I needed to have a formal lesson plan for the lessons I taught. After a few years of trying various forms with limited success, I've now combined the best of them to create my NoSweat Library Lesson Planner Template. The organization of my lesson planner keeps me focused on what students are studying in their classroom so I avoid anything that does not achieve the purpose of the library visit.
To that end my Library Lesson Planner begins with Subject-area Content Standards and then AASL National School Library Standards; it includes understandings, key questions, objectives, and performance tasks for both subject and info-lit. It also follows the AASL-recommended instructional model for presenting a lesson. This may seem like a lot of work for a single lesson, but taking time for detailed planning—maybe more time than the actual lesson takes—makes a better lesson.
Habitually using my Library Lesson Planner has made me a better teacher and librarian, and I'm convinced it will help a New School Librarian, too.
LibTip: I'm a big fan of graphic organizers as learning aids for student success, thus my lessons usually have some sort of graphic worksheet. I've used many types for lessons, and I feel it's my responsibility to support classroom learning by using as many teacher forms as possible. Teachers LOVE graphic organizers for library visits; not only does it hold kids accountable for what they need to be doing, but it also gives teachers the concrete evidence they need as a daily grade for students when visiting the library.
PARTNER WITH THE PUBLIC LIBRARY YOUTH LIBRARIAN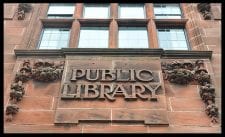 One of the most valuable steps a New School Librarian can take is to establish a partnership with the Youth Services Librarian at the local Public Library. Have this colleague visit your library several times during the school year and they will provide Library Lessons that you don't have to create. I'm fortunate that our school boundaries include 2 cities with wonderful Youth Librarians who love to visit our school.
I have the Public Librarian give Booktalks because I don't do them very well, and they can be sure-fire "lessons" for you, too. Our ladies feature the most popular books, especially those with more copies than are available in our school library. Students—even reluctant readers—sit, rapt with attention, as our public librarians do 8-10 booktalks in a single class period. And according to them, their circulation always goes up for 2 weeks after their visit to our school. Here are the visits and booktalks I arrange with my Public Library Youth Librarians:
September is Library Card Sign-Up Month so at this first visit they show students how they can get public library services both in-house and online, and then they booktalk new releases over the summer.
December marks the announcement of our State Reading Lists, so at this visit they booktalk the books for middle school and pass out flyers of public library activities taking place during the school's coming winter break.
March is our spring break, so they visit beforehand to talk about their public library activities during March and in April for School Library Month and National Library Week. I ask them to give booktalks on something unique, such as their extensive collection of graphic novels or informational books on popular age-appropriate topics.
May's visit features summer reading activities at the Public Library to entice kids to visit throughout the summer, so their booktalks align with the theme of our State Summer Reading Program. I schedule this visit the second week of May because that's the final due date for all our school library books, and promoting the public libraries at this time encourages kids to visit them to check out new books.
Establish this booktalking partnership with the Public Library Youth Librarians during your first year as a New School Librarian so you can focus on other pressing needs without sacrificing the needs of your students.
LIBRARY CLASSROOM MANAGEMENT
Moving from classroom to library has unique challenges, one of which is establishing behavior management procedures for students entering, leaving, and being in the library. It's important to establish a procedure for entering the library because it sets the tone for the rest of the visit.
I explain to all teachers that, when they bring students to the library, students enter, sit down, and wait quietly for me to begin the visit. I emphasize to students that the procedure applies to any library visit, with any teacher, for any purpose.
Teachers respect that the library is my classroom and I need to direct activities. Even if there's no lesson and I return to my desk, like during testing, I still need students seated to settle them into the room and welcome them to the library. I never have a single teacher disagree—especially with our hormonal middle schoolers.
(If a class comes in a bit unruly, I stop them at the door, have them line up in the hallway and invite them to re-enter the library in the proper way; I only need to do it once or twice before they get the picture!)
Otherwise, I'm a pitiful classroom manager, so these procedures for me helped with even large classes of more than 60 students. I printed them out and taped them to my presentation station so I'm always reminded of what I need to be doing. I hope these 4 tips to help you present your Library Lessons will result in a receptive student audience:
Stand still when you're giving directions (don't do 2 things at once).
Be specific about what to do (what to have on the tables, what not to have; thank them as they complete task).
Correct misbehavior with the positive expectation, not the negative wrong. "Thanks for behavior that meets expectations." (Praise is a value judgment for what's truly special or exceeds expectations.)
Control should be for purpose, not power. Step outside of your own head. (We don't do that in the library because it keeps us from making the most of our learning time.)
Go from student who gets it wrong to students who get it right, then back to student who gets it wrong; ask a follow-up question to make sure they understand why they got it wrong & why the right answer is right.
REMEMBER THE PURPOSE OF LIBRARY LESSONS
I'm convinced that the purpose of our School Library Lessons is to teach students only what they need at that time, and those lessons need to make things easier for students, not harder or more confusing. Here's a final bit of counsel for the New School Librarian:
The rigor in our school library should be the CONTENT in materials, not finding the materials; 
the challenge needs to be the ACADEMIC PURPOSE for which we have a school library, not in using the library.