I'm a long-time techie:
1969 – Fortran programming college course
1980s – DOS PCs with 5″ floppy disks. (I know why we originally had 7.3 filenames)
1992 – Email account (still have it!) and joined listservs to learn more about technology in education.
1993 – Built 2 working PCs for a teacher using parts of defunct ones; installed RAM upgrade (a huge 64MB that cost $400!) to classroom touchscreen/laserdisc computer.
1990s – Macintosh in school so became Apple/Mac guru. When we acquired more, I networked them so we could email each other and share files.
1990s – Use Gopher to find curriculum resources on the Internet.
1992 – Learned HTML to create text webpages for Lynx ; 1993 added images to webpages; created homepages for schools & departments on district's new Website.
Web Writing course, CSS course, and Javascript course for Web development.
District Web trainer for 8 years. Later, district helpdesk still directed folks to me to solve mysterious webpage glitches!
Microsoft Courses, so district would let me handle hubs and PC connections for my school. District IT guys remote connected with me to help train their techs. (Ever hear of NET SEND?)
8 year Member District Technology Committee; helped write first District Technology Plan and Acceptable Use Policy.
Early adopter of new desktop apps, cloud computing, and video recording/broadcasting (analog & digital), teaching teachers and students how to use them.
Now you must be asking, "Why am I telling you all this?" Well, I retired in December 2013 and sat back for awhile, so when I decided to share my educational knowledge and lessons online, I discovered all my background had been surpassed by the advances in Web, tablet, and Smartphone technology. I needed to learn some new tech!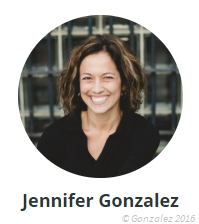 My search brought me to Jennifer Gonzalez and her Cult of Pedagogy JumpStart course in the summer of 2016. It was a life-changer, and now I feel able to participate in today's tech-rich educational landscape! If you want to go from technophobe to tech guru, you can JumpStart your tech journey as easily as I did, and you don't need any tech background to do it!
What I especially like about JumpStart is Jennifer's approach. The course is arranged by processes—ways to use technology—that apply to any subject, classroom, or grade level. First you read background on the process and learn about a particular tool that works well for that process. As Jennifer states in her Teacher's Guide to Tech (a must-have tool for everyone):
It's essential to start with your learning objectives. Before you even consider technology, think about what you want students to know or be able to do by the time the lesson or unit is over. Then consider how technology could help you reach those goals more effectively. [Jennifer Gonzalez, Teacher's Guide to Tech, p24-25.]
Next you view explanatory videos that show you how to use the tool, and then you use the tool to create a real project just as if you are your own student doing the activity. (Jennifer calls it "dog-fooding.")  By the time you finish you'll be so much more confident about these educational processes and tech tools, but the true value of JumpStart is that you'll learn how easily you can integrate these processes and tools into your standards-based curriculum to make it more exciting for students.
JumpStart Modules
How JumpStart can help a School Librarian
1
Blogging
I'd had a blog for a long time, but this opened up so many possibilities for library advocacy and for helping students have a global presence. Students can use their own blogs for journaling, book reviews, a project learning log, and communicating with students in other states & countries.
2
Online Collaboration
Better than email for communicating with colleagues on other campuses—we can have real group collaboration and sharing of ideas and files, or even online meetings.
3
Mind Mapping
A unique way to present information to students, and for students to brainstorm their research project topics and questions and even search terms.
4
Curation
The librarian's forte, but it's not just having a list of websites; it's providing context. We also need to show students how to do this effectively, so they can keep track of their myriad classroom assignments and projects.
5
Screencasting
Eliminate explanations of how to do a book search, or self-checkout, or access online services, or use a tech tool. Create a tech club and have them create student how-to's.
6
Flipped Learning
Create WebQuests of online resources. Create a pre-research helper for students before they come to the library; create a post-visit research helper to reinforce what we taught during a library visit.
7
Digital Assessment
Create quizzes to track student learning of library skills. Make a digital "exit ticket" for learning a new tech tool or for online research activities (teachers love these for "daily grades" especially if it's paperless).
8
HyperDocs
Create training for aides & volunteers. Create a library orientation for students transferring in during the school year. Create a whole course on video broadcasting. Create thematic trainings for teachers.
9
QR Codes
Text/audio/video book promos on book covers, bulletin boards, and displays. Add to school-to-parent newsletters as links to pictures, resources, and information on the library website. And give students a total tech experience: attach a QR code to a computer screen that links to a screencast so they can use their Smartphone to watch how to use one of these other tools on the computer!
10
Podcasting
Create booktalks for the library website. Guide students through research assignments. Have students reflect on their learning during project based learning.
If you're already an experienced techie but haven't tried some of these tech processes with your students, the JumpStart Basic course allows you to independently learn at your own pace. The course takes you through every step so you will be completely comfortable introducing these technologies to your students.
If you're a novice tech user and still a bit intimidated, you can choose JumpStart Plus and join an online cohort of learners and course mentors to help you along your tech journey. You can even earn a Certificate to submit for Professional Development credit! The cohorts enroll 5 times a year (Jan, Mar, Jun, Jul, Oct) and run approximately 6 weeks.
So if, as I did, you want to become more tech-literate and enhance your classroom activities, head over to the JumpStart information page and find out how you can JumpStart your Tech-xpertise!
(That's also where you'll find the phenomenal Teachers Guide to Tech!)

Thanks to my colleagues at Cult of Pedagogy—Debbie, Holly, Sheri, and, of course, Jennifer—for your help and support in JumpStart and with this blog post. I'm a long-time follower of Cult of Pedagogy and have become one of their content marketing specialists; however, I get NO compensation for this enthusiastic endorsement of the JumpStart course. Just putting that out there …