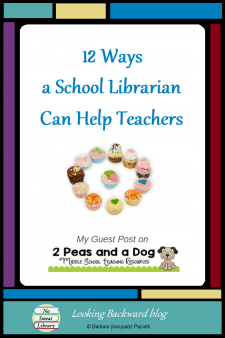 I am so grateful to Kristy Avis, Canadian educator and blogger of 2 Peas and a Dog for inviting me to write a guest post about School Librarians and how we can help teachers in the classroom.
For this post, I focus on the 5 areas of expertise that help School Librarians contribute to student success:
Experienced Teacher
Instructional Partner
Information Specialist
Program Administrator
School Leader
Our expertise is like pieces of a puzzle that fit together to create a picture for student success!
Please support Kristy and me by reading 12 WAYS A SCHOOL LIBRARIAN CAN HELP TEACHERS.
You may also enjoy reading this article on the benefits of having a librarian in your school: The 2016 edition of Scholastic's "School Libraries Work!"