When we become a School Librarian we don't cease being a teacher. What changes, however, is how we plan and present our lessons.
First, we no longer have a standard curriculum designed to be presented chronologically on a daily basis.
Second, we rarely have contiguous days with students, so we must spread learning across random, irregular library visits.
So, how can School Librarians teach Library Information Literacy Skills under such circumstances? We must scaffold stand-alone topical lessons that gradually build up knowledge, so students receive a comprehensive program of Information Literacy instruction.
In short, School Librarians must integrate info-lit skills into every subject and grade level, during single class periods throughout the school year. And the only way to do that is to become familiar with everyone's subject area curriculum.
A VISUAL ORGANIZATION TOOL FOR SUBJECT CURRICULA
School Librarians must support what students are studying in the classroom, otherwise, teachers won't allow time for a library visit. We don't need to know course content as teachers do, but we must familiarize ourselves with content area units and their assessments so we can discern when students need an information literacy skill to do what they're expected to do—even if it's not written down and the teacher doesn't realize it.
Once I decided this was the best approach, I had to devise a way to organize it: First, to identify when a library lesson was needed for students, and second, to track intermittent lessons and progressively build Info-Lit Skills. I decided to create a grid with different subject areas along one side and a chronological listing of my Library Info-Lit Lessons along the other side.
I worked my way through subjects and grade levels, and as I added actual lessons, I also entered Library Standards. The grid became quite unwieldy, but after digitization into a set of spreadsheets, with a few modifications & adjustments, I finally arrived at the finished product that I use even today:
the No Sweat School Library Lesson Curriculum Matrix.
USE MY TEMPLATE TO BUILD YOUR OWN CURRICULUM MATRIX
Colleagues have asked for more specifics about my LLC Matrix, so for this blog post I'm explaining the template I created so any school librarian can fill in their own subject curricula and library lessons.

My Matrix Template is available from No Sweat Library, my TPT store, but for my email group it's a free download from our e-List Library.
If you're not on my mailing list, join now so you can access all the valuable FREE school librarian tools I offer there. Plus you'll receive a personal email when I add a new blog post!
linebreak

The No Sweat Library Lesson Curriculum Matrix Template contains 5 tabbed spreadsheets:
a year-long Library Scheduler overview page.
3 tabbed pages for Grade levels, in my case 6g, 7g, and 8g. (Add additional pages by copying one of the spreadsheets and rename tabs to align with your own grade levels.)
an Example sheet with some of my No Sweat Library Lessons entered to guide you through filling in your own information.
For each grade level spreadsheet, the Subject Area rows are listed down the left side, along with rows for Information Literacy and National School Library Standards. The Grading Period Week columns are across the top and between each subject. There is a separate block for each of the two semesters. Notice the "Freeze" entry: this feature allows you to slide the relevant time period next to the Subjects column.
(Customize subjects & grading periods for your situation.)


Here's the step-by-step process for filling in the LLC Matrix Template:
Begin with a single subject area for your lowest grade level.


linebreak

Using the subject's curriculum guide/scope & sequence, enter content unit titles/themes into the field for the week they begin. (I italicize these to keep them distinct from my library lesson information.)


linebreak



Look through the cg/ss for classroom assignments that could benefit from a library lesson or library resources. For the week you think it's needed, colorize the block (the same color as the subject area) and type "Library Lesson" or "Library Resources."


linebreak

In the Information Literacy row, under the corresponding week, add the skills that can be introduced and/or type of resource.


linebreak

Grab another subject area cg/ss for the grade level, and fill in units & identify probable library lessons or resources. Do this for each different subject at that grade level.


linebreak

Move to the next grade level and fill in subject area units and possible library lessons & resources. As you progress through each grade, keep in mind what you identified at prior grade levels, so you can plan a review and then introduce new skills.


linebreak

Once you have a preliminary LLC Matrix, pull out Library Lesson Plans that you regularly teach and replace your own Lesson info as shown in the example above. Be sure to enter National School Library Standards into the appropriate fields. (I like to enter my lesson Title into the subject row and the lesson Theme or Learning Target into the Info-Lit row.)
When you've finished your LLC Matrix, you'll have a thorough picture of all subject area curricula and where you can create more lessons to introduce, review, and build Library Information Literacy Skills. You may also see the need to enhance the library's print or digital collection to meet a curricular need you weren't aware of.
Your LLC Matrix may occasionally need changes as standards and course curricula change, but if you keep up with it, you'll always have a broad view of library visits and the Info-Lit Skills you cover for the grade levels.
The Library Lesson Curriculum Matrix is a great tool to show your principal during evaluations, so they understand how valuable you are to classroom learning!
HOW TO USE YOUR LIBRARY LESSON CURRICULUM MATRIX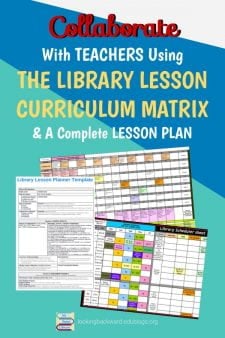 Creating the Library Lesson Curriculum Matrix is the easy part. Creating specific Library Lessons is a bit more challenging. The really hard part is convincing teachers that students will benefit from a Library Lesson! Here's how I do it:
At the start of each grading period I look over the upcoming library lessons & resources for that span in my Matrix. I select & print out enough of the Matrix so those teachers see how important their place is in building Info-Lit skills.


linebreak

I also print out each Library Lesson Plan so teachers can see how I incorporate their unit Standards and activities as a focus for the library skills lesson.
When only library resources are needed, I use my Library Lesson Short Form for Teacher Requests

(available on my FREE Librarian Resources page)

.


linebreak

During their conference period, I go to each subject area teacher and show them the LLC Matrix and their Library Lesson Plan. I make it pretty easy for them to say "Yes, indeed, let's do this!"
(For resources & Short Form, I suggest a "quick lesson" so students know how to best use the materials.)


linebreak

I also bring a selected print-out of the Library Scheduler spreadsheet and when I pull it out for scheduling their library visit they're pretty impressed to see what a School Librarian's job is all about!
You may be thinking, "Wait, shouldn't we collaborate with the teacher before we create the Library Lesson Plan?" Uh, NO. In my experience, teachers who are unfamiliar with librarian collaboration can't envision how we can help them. But, they'll consider a library visit when we show them a concrete example of how we use their content to teach library skills that enhance classroom learning and increase student achievement.
GO FORTH & COLLABORATE WITH YOUR CURRICULUM MATRIX
Once you've completed your Library Lesson Curriculum Matrix, I know you'll rely on it to develop your lessons and purchase resources. And when colleagues, teachers, and administrators see this tool, your professional standing with them will skyrocket! BTW, I'm open to any suggestions you may have for improvement…just put it in the Comments below.