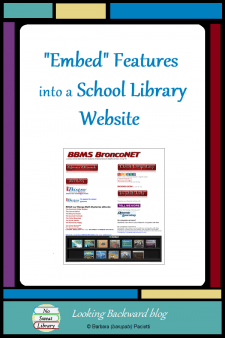 A library website is pretty standard for schools, but a School Librarian needs to ask, "Is our School Library Website truly useful to students and teachers?"
I created my first school website in the mid 90s and included useful curriculum links for students and teachers. As The Web developed, I added more advanced features to my school library website that increased its value for viewers. One valuable addition has been embedded features from other web sources to support reading, research, library use, and communication outside the school library.
EMBED TO SUPPORT READING
A popular embed with students was a Shelfari "bookshelf" showing newly arrived books from our Junior Library Guild subscription. Since our library website is the "homepage" for student computers, students quickly noticed these books and would check them out!
(Note: Shelfari is no longer available, but you can see it in the above image. Library Thing also provides an embed feature that can be used for this purpose, as you can see below with my own books.)
Other helpful embeds that promote a reading culture in our school are podcast booktalks and video booktrailers created by 7th & 8th grade ELA students. It's exciting for students to create these and then see them displayed on the school library website, and their fellow students view them to decide which books to check out next.
EMBED TO SUPPORT LIBRARY USE
Our school has a highly transitory school population so I embedded a helpful ThingLink map of our School Library. New students click on the icons to find out more about the library. I included a YouTube video on how to choose a good book and a personal SoundCloud greeting from me, the Librarian, Ms. P. Try some of the info-icons yourself!

EMBED TO SUPPORT STUDENT RESEARCH
Supporting student research is an important part of a school library website. I have links to our online subscription databases and e-books on the homepage so students can immediately use them.
Providing a linklist of student research resources is helpful, but I also use an embed feature to engage student interest in resources that are especially good, for example, directing 7g Social Studies students to the Texas Almanac!
The Texas Almanac is a biennially published reference work providing information for the general public on the history of the state and its people, government and politics, economics, natural resources, holidays, culture, education, recreation, the arts, and other topics.
Another way to support students is by providing Research Helpers, such as my "Sight-Site-Cite" embedded video, used by teachers in the classroom and by other librarians in my district to introduce the concept of "citation" to elementary and middle school students.
EMBED TO COMMUNICATE WITH STAKEHOLDERS
Finally, I embed short videos of Library Happenings to keep our stakeholders aware of how valuable the library is to students & teachers. Featuring various activities keeps parents coming to not only the school website, but also the library website in particular. When parents become familiar with the library site, they are more likely to remind their kids about library resources when working on an assignment or to find an answer to a question. Here is a short promotional video I created by simply uploading pictures of activities to Animoto and allowing it to create the video: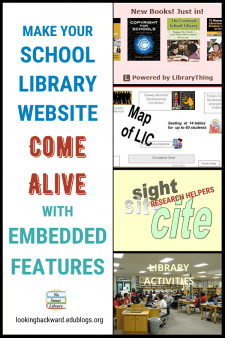 Embedding resources into our School Library Website creates a much more engaging and supportive experience for our users, whether students, teachers, parents, or other visitors.
An exciting School Library Website also promotes the School Library and the School Librarian as essential to the whole educational community.