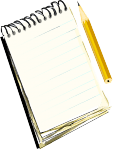 Join the No Sweat/Looking Backward email group so you get an alert for each new blog post that has a brief summary of content and a link to the full blog post.
You also gain access to the exclusive e-Group Library of FREE resources to help manage your library more efficiently and provide better experiences for students.
Plus, you will begin receiving the new Less Sweat Library e-Letter, less than a blog post, but a short & sweet email with simple tips and ideas you can use right away.
Just fill in the short form below, then confirm the follow-up email so you can become a No-Sweat Librarian, too!