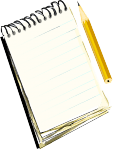 Join my mailing list to get a quick email alerting you to each new blog post. It has a brief summary of content and a link to the full blog post.
My e-Mail group also has access to my exclusive FREE e-Group Library of resources to help manage the library more efficiently and provide better experiences for students.
Just fill in the short form below, then confirm the follow-up email so you can begin receiving valuable library ideas and guides. 
Here's a snapshot of the e-List Library freebies to tempt you!
Student Library Pass
(editable template to personalize a pass for every classroom)

Library Aide

Handbook
Graphic explanation of both alphabetical & numerical shelving.


Library Aide
Confidentiality Contract
Anyone with access to student records in your library automation system needs to read and sign this document to preserve student privacy.


PACE problem-solving model
student project guide: a
2-sided printable sheet
w/

graphic & rubric

A guided worksheet to help students plan a project. They enter topic, brainstorm keywords, and generate What, Where, When, Why, Who, How questions, from which they create their overall Topical Research Question.
Research lesson teaches students how to summarize informational text using a magazine article. Introduces citation of a periodical and the 5W-1H question process to create a summary paragraph.

Multicultural

Spine Labels
formatted for
Demco Item #: WM14217700
3/4" x 1" Spine Processing Label sheets

Sample of Biography Subject Labels
formatted for
Demco Item #: WM14217700
3/4" x 1" Spine Processing Label sheets
Individual template sheets & shelf signs and labels available in my TPT store.

e-book to help promote your School Library – includes 15 Info-Lit and ELA signs.