These FREE for download are some of my best-practice library resources for students, for you, and to give to teachers.
(PDF files can be viewed before downloading; DOC files are direct download with no previewing.)
---
NoSweat Library Lesson Planner Template as MSdoc
NoSweat Library Lesson Planner Template as PDF
---
NoSweat IT IS FOR ME mnemonic checklist  – a PDF document with 4 "apps" per sheet.
Use with video "How to Choose a Good Book"
---
A PDF of 5 different bookmarks to print out on colorful paper. When students come to check out a book, give them one of these bookmarks to remind them they have an overdue book. Space to enter the title of the overdue book.
---
Problem-Solving Models Comparison Chart-PDF
Printable overview of 14 different student research models in alpha order across a single 8½ x 14 sheet.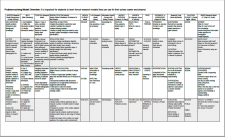 ---
Sheet with 2 forms can be used as a a guided worksheet to introduce keyword searching, then placed in baskets near computers for students to use anytime they need to search.
---
Digital Citizenship Resources Lesson Planner – text document as PDF
---
Better Slide Presentations – text document as PDF
Internet Laws in a Nutshell – text document as PDF
How your School Librarian Can Help with Project-Based Learning – text document as PDF
---
Teachers, Did You Know? – facts on how a School Librarian impacts student achievement – PPT as PDF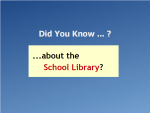 ---
Links to Videos on other websites
On Animoto:
My Example Book Trailer
Visit the BBMS Library
Night of the Notables 2012
On Vimeo:
How To Choose a Good Book
The Library Secret (All Our Books Have Legs)
Sight-Site-Cite
On YouTube:
How To Choose a Good Book
The Library Secret
My Example Book Trailer
Sight-Site-Cite