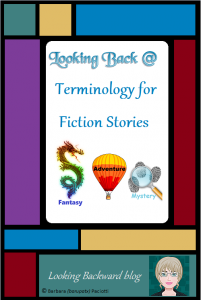 In a recent LM_NET post the question was asked, "Is there a common standard or system by which to reorganize the Fiction section of the school library?"
Actually, we do have a common standardized vocabulary for Fiction. As I learned in my cataloging class (yes, take it, even if it's not required; you'll never regret it!) part of the MARC record for a book is the Subject Heading. Whether a library uses LOC Subject Headings or SEARS Subject Headings, all library books have at least one Subject Heading in the MARC record and it comes from one of those standard vocabularies. Many books have multiple Subject Headings from one of those sources.
You can see what Subjects are used for a Fiction book's MARC record by viewing the book's copyright page: look for the CIP data from the Library of Congress. Among the listed Subjects are the most common terms that librarians use for grouping their fiction books: such terms as adventure, mystery, fantasy, science fiction, historical fiction, and horror. Library vendors, like Demco or Library Store, sell Subject Classification stickers to put on fiction books, and they use the same terms as the MARC Subject Headings. Even if a librarian does not separate the fiction collection into groups, many will still buy and use these stickers to help students choose a book that appeals to them.
When speaking to students—and to avoid confusing them—I do not use the term genre to talk about my Fiction groupings:
Since the MARC record uses the term Subject, your Online Book Catalog uses the term Subject Search, so using the words "Fiction Subjects" to identify your Fiction groupings will clearly indicate to students what words they should use when they search for a particular kind of story.


linebreak

When explaining organization of books by the Dewey Decimal System, most school librarians use the word "Subject" (rather than the proper DDC term discipline). Students are already prolific in their use of the term Subject for their courses in school, so it's easy for them to understand Dewey in terms of subjects like Science, Literature, History, etc. By using the word "Subject" for Fiction, students understand that they are grouped just like Dewey books (especially if you start the association with 'Science Fiction'). Students need such consistency in the library.


linebreak

The Common Core Standards for English/Language Arts uses the term genre for different types of literature—poetry, drama, narrative, expository—not the subject/topic of a fiction story. I tried, as some folks are, using the term subgenres, but it wasn't any easier for kids to differentiate kinds of stories from types of literature. Students already have so much vocabulary to learn that we can at least make it easier for them to navigate the library!
On a final note, I know some librarians have talked about using BISAC, which is what bookstores use for identifying subjects and grouping books, but I've looked at it, and it seems too complicated for practical use with students. Some librarians have even expressed their frustration at not finding what they want at bookstores! For me, no thanks, I'll stick with Dewey numbers and LOC Subject Headings!
I know many others have different views, but I believe it's our job as school librarians to make our libraries as "kid-friendly" as possible. Using the common term/word "Subjects" has made a huge difference in understanding for my middle school students as they search for and locate the kinds of books—Fiction or Dewey—that they want to read.
---
Click here for information about the process I used to group my Fiction collection by Subjects.
You may also be interested in how I created Special Collections to support reading for Social Studies classes.