As a school librarian, I find that emailing long lists of website URLs willy-nilly to teachers is NOT a good idea!
We may get a "Thank You" from a teacher or two, but most don't have the time, or the desire, to wade through a random list of website links for something useful, so sending them out is a waste of everyone's time. We'd never expect a teacher to give such a list of websites to students because that's not productive learning.
More importantly, there's no direct contact with the School Librarian for further interaction. I've found two ways for sharing websites that are effective because they promote collaborative planning between teachers and the School Librarian.
EFFECTIVELY SHARE WEBSITES TOPICALLY
While emailing a list of URLs isn't effective, there is a productive way to email teachers about valuable online resources that they'll be likely to appreciate and use, and which will invite collaboration.
At the beginning of each month I send teachers a short bulletin called Monthly Media Minute (because it literally can be read in a minute). I choose a particular pedagogical, curricular, or technical topic that would be helpful for most of my teachers. I write 2 or 3 sentences about the topic, include one link to a website or to an article in one of our online subscription services, and then add another sentence on how a Library Lesson can use this topical site to enhance classroom learning.
Teachers who want more information about the topic can easily click on the link, and for those not interested, a minute isn't much time wasted. Because I'm careful about the topics I choose and the length of text I include, my teachers open each month's email and I receive many thank you's from my colleagues. Monthly Media Minute has been a success for many years and has produced several requests for collaboration that have become valuable recurring Library Lessons.
BEST STRATEGY FOR
EFFECTIVE 
WEBSITE SHARING
Instead of emailing link lists, I use a more effective strategy that includes collaboration with the teacher. I compile relevant websites on a School Library webpage and then approach the teacher with a quick Library Lesson about them. This strategy is quite appealing to teachers, and they frequently accept it.
My School Library Homepage is a one-stop shop for students. On the left side is a column with links to our online subscription services and on the right side is a column with, what I call, ClassLinks. It lists each Subject area which links to its own ClassLinks page. On the subject's ClassLinks page, each teacher has a section with collaboratively chosen websites, resource lists, digital documents, infographics, Hyperdocs, or other online apps & resources that support current classroom activities.
For the Library Lesson I open the Library website—our Virtual Library—and remind students it's the best place to find high-quality resources. If relevant, I point out an online service where I've bookmarked helpful articles. Next I talk to students about website evaluation, and explain why ClassLinks are pre-selected to minimize the need to do that—they can just click the links to complete their assignments. Finally, I quickly review bibliographic citation.
This entire process takes maybe 10 minutes of class time, so using ClassLinks maximizes the time students have for gathering information. My presentation can be in the library, or I can pop into a teacher's classroom or computer lab for the few minutes it takes to present the lesson. With either scenario I have engaged in a direct teach and students have learned that not only am I the person to come to for books, I am also the person to come to for websites!
My teachers rely on ClassLinks because it's faster than giving kids a printed page of URLs, which they typically get wrong when typing into a browser. Many prefer to send me websites links to put on their ClassLinks page rather than adding links to their own webpages. If a teacher sends an incorrect URL (usually from someone else that they didn't check) I'll figure out the correct one, which they really appreciate.
Maintaining ClassLinks pages on the school library website is easy, and I update them each grading period for upcoming subject-area library visits or classroom assignments. I keep "hidden" subject area pages of the topical lists by grading period, so I confirm the upcoming lesson with teachers, copy the links to the visible ClassLinks subject page, and verify that they are all still valid links.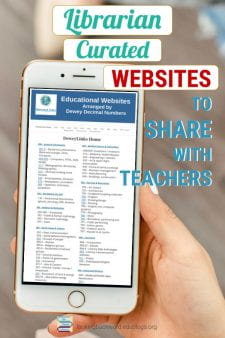 I'm able to create these link-lessons because I curate my own compendium of high-quality websites called DeweyLinks.  These are chosen to align and enrich our middle school curricula. If a teacher asks for a few website recommendations for an assignment or if I'm compiling a Resource List, I can copy-and-paste from DeweyLinks. I have a DeweyLinks logo prominently displayed on the school library homepage, and students can browse DeweyLinks by subject just like they browse Dewey books on the shelves in the library.
DeweyLinks, organized with a page for each of the 10 Dewey Subjects plus Biography, is available online for anyone to use. I update it annually by adding new resources and "weeding" broken links (just like I weed the print collection).
BE CONSIDERATE OF TEACHERS
When I find a particularly valuable URL related to a specific topic I know certain subject-area teachers are studying, I will zip off an email to them. They know I'm a source of good information, so they open it and respond with a grateful reply for tuning them in to a useful addition to their classroom activities. Otherwise I just add useful website URLs to DeweyLinks, knowing that sooner or later they'll come in handy for ClassLinks or the Monthly Media Minute.