If a School Librarian had to list the 3 most dreaded tasks, weeding would be right up there with inventory and overdue books…right? I've written about my 6-step process for weeding Dewey books, so now it's time to tackle weeding Fiction books.
When I began as School Librarian at my middle school, it was only 2 years old, and we still had 3 years of higher funding to build our collection, so my first 3 years I didn't do any weeding at all. Needless to say, by the 4th year, the Fiction section looked pretty well stocked, but I wasn't satisfied with some of the titles on the shelves.
Often new school libraries are stocked with a vendor package of book titles purportedly chosen for the grade levels of the school. I discovered that what they actually do is clear their warehouse of old books that have been sitting there awhile and throw in enough new titles so the average age of the collection isn't some time in the Stone Age. No wonder kids couldn't find anything interesting to read!
So, that first time I weeded Fiction was, to say the least, a learning experience, and it helped me develop an easy system for weeding Fiction books that has served me for a decade.
WHAT TO WEED IN FICTION
When weeding books from the school library collection, we first need to decide our purpose:
We can weed for currency, that is, remove old publication date books to update the average age of the collection.
We can weed for relevancy, that is, remove books that haven't circulated for awhile to increase appeal of the collection…and boost circulation.
I always weed Fiction for relevancy. If the purpose of our Fiction collection is to promote independent reading, then we want books on the shelves that are interesting to students. Relevancy means students are drawn to a book—for whatever reason—and will check it out. Relevancy allows older, popular "classics" to remain, but removes undesirable old publication date books, accomplishing both purposes.
Weeding for relevancy means deciding on the date range and circulation numbers of books we want to remove. Many librarians weed Fiction books with under 10 checkouts in 5 years, and you may want to do that, too. I choose to weed any Fiction book with 0-5 checkouts during the past 4 years. How do I justify these numbers?
In our middle school, we have every-other-week library visits with ELA classes for book checkout and sustained silent reading (SSR) which we call DEAR time (Drop Everything And Read). I'm poor at probability, but here's my reasoning:
A student can check out 3 books at a time, so a book has 3 chances of being chosen by 1 student during a single library visit.
ELA visits the library 15 times during the school year, so a book has 45 opportunities to be chosen by a student during a school year.
We have roughly 650 students, so each book has 29,250 chances to be chosen within a school year.
As a 6-8 middle school, each incoming group of students has 3 years of visits to choose Fiction books, so each book has 87,750 opportunities to be chosen during a 3-year period.
I allow an extra year, just to be sure, which puts it over 100,000 chances for a book to be chosen. If, after that many opportunities it hasn't been checked out, it's cluttering the shelf and preventing other books from being noticed.
I choose 0-5 checkouts because my minimum appeal number is 2 students/year. I figure, if a student likes a book, they'll tell a friend about it. If that happens each year for 3 years, the book will be checked out 6 times and I'll leave it on the shelf. Fewer than that isn't worth the shelf space. Even if a book had high circulation after initial purchase, when it's checked out fewer and fewer times within any 4-year period, then it's lost its appeal and needs to go.
WHEN TO WEED FICTION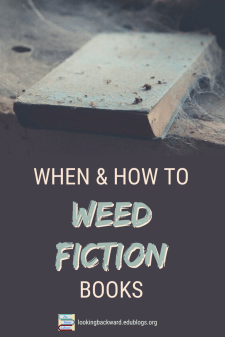 The flexibility of weeding Fiction is that we can do it any time. Think about it: any books that aren't on the shelves—that is, checked out or on re-shelving carts—are being used by students so they don't need to be weeded! And it isn't necessary to weed the entire Fiction collection every year, so that's why I do mini-weeds.
What's a mini-weed? If we set up a schedule to consistently weed small sections each year, we'll regularly rotate through the entire Fiction collection. We can start with the books on one side of an aisle. If time presents itself during the school year, we can do another side of an aisle. Eventually we'll complete the schedule.
HOW TO WEED FICTION
To set up my weeding report, I identify a certain range of Fiction books. Before I reorganized Fiction into Subjects, I set the range for the Call Numbers on one side of an aisle, like FIC AAA – FIC CRU. During Fiction reorganization, I assigned a book's Subject to our system's Home Location field, so now I set my report for the Home Location Subject I want to weed. In either case I have the report sort by Call Number so it's in alpha-author order, the same as the books on shelves.
For the actual weeding, I take a bookcart and a printout of the report to the location, then simply go down the aisle, pulling books off the shelf to the cart. I don't bother crossing off the list; I just indicate where I stop in case I get interrupted. Once I've gone through the entire report, I take the cart to the circulation desk and scan the book barcodes into DISCARD. Last, I remove identifiers and pack the books in boxes, ready for pickup by the district warehouse, which does our book disposal for us.
The weed report goes into the trash. Even if there are books on the list that didn't get pulled, they're either checked out or on the book re-shelving cart, so students are reading them and they don't need to be weeded. Even if a book is mis-shelved, some student has put hands on it, so it's still of interest. If not, it'll get weeded next year!
WHAT IFS
What about lost or missing books? They're extraneous to the weeding process; because they're already off the shelves, they're a matter for inventory, not weeding.
Many School Librarians share stories of horrified teachers and administrators seeing them throw out weeded books. Here's a possible explanation you might use to justify what you do.
Books are like great food, but instead of feeding the body, they nourish the mind. When we encounter food in our kitchen or—gasp!—at the grocery store that is past the expired date, we know that food is no longer healthful for us.

The same is true of a book: when it's past the time that it's accurate or relevant, then it's no longer nourishing, and in fact, can be damaging. That's why we weed: to be sure our school library is providing wholesome and beneficial sustenance for the intellect and the soul of our students.
If you've been holding back on weeding for whatever reason, I hope this article stimulates you to jump in. It's actually quite a satisfying process, knowing you've "pulled the weeds." Students are better able to notice the remaining books on the cleared off shelves, so they read more and our circulation improves. And isn't that the whole point of a library?