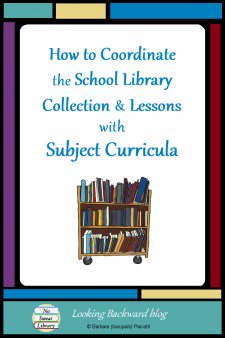 School Librarians develop a school library collection based on the curriculum needs of teachers and students, not a 'balanced' collection based on arbitrary numbers of some purported authority. We know that we are the authority for our school library and better able to determine our print and digital needs than anyone else. We must be bold enough to trust our own judgment—to ignore 'balance' and support as much of our school's curriculum as possible.
But it's not enough to just add materials based on topics of study in the classroom. We must think deeply about how we can integrate resources into classroom experiences so they are actively used by students and teachers. That means anticipating Library Lessons, especially those that bring authenticity and higher-order thinking to assessment products. Let's follow the development of one such example.
BEGIN WITH CURRICULUM ALIGNMENT
Early on I began to apply subject sticker-labels on fiction books to aid student choices. I noticed a large number of historical fiction books cover the time period our 8th graders study in U.S. History—discovery of the Americas through Reconstruction. Instead of an Historical Fiction label, I put a Historical America sticker on those books, already thinking I can promote them to 8th graders during their library orientation.
I know that each semester 8g English Language Arts does a novel study using a classic historical fiction novel with a tie-in to Social Studies. It occurs to me that a novel study might be more engaging for students if they could choose their own individual Historical America book to read, and I keep this in mind as a possible Library Lesson.
DEVELOP THE TOPICAL COLLECTION
Though we have a considerable number of suitable historical books, there aren't quite enough for the whole grade level. Determined to increase the Historical America collection, I run a report for relevant books owned by other district middle school libraries, but not ours (we're only a couple years old), and find a good number to purchase right away.
Periodically combing through book reviews for good books of the time period adds titles to my acquisition book list. About this time one of our major book vendor representatives shows me how to do various searches in the online book vendor catalog. I perform one for "Popular" (which is as it sounds, the most popular titles purchased by other librarians) and filter for "Historical Fiction" and "U.S. History" which adds more titles to the book list.
Each year, as I begin my collection development, I search for newly published titles. As our school population increases, so does our special Historical America collection.
SEIZE A LESSON OPPORTUNITY
One day a new 8g Social Studies teacher approaches me: he wants students to "hear another voice of history" beyond the textbook by reading an historical fiction book. Because I coordinate our collection with our school curricula, I could show him our, by now, substantial collection of Historical America titles.
We plan the Library Lesson for shortly after the start of the 2nd semester. We'll co-present the lesson to students, then allow them to move around the library to choose from the Historical America books I've arranged on tables by time period. The U.S. History project criteria focus on the historical events of the story and how they align to what students study in class:
historical time period and location of the story
character's conditions and lifestyle in historical context
political, economic, religious, environmental, or sociocultural issues of the historical event
historical accuracy of circumstances that lead to the character's decisions
We decide students will have multiple product choices:
Academic – research paper or slideshow
Artistic – mural or foldable flipbook
Speaking – talk show interview or debate
REALIZE THE VISION
Returning from winter break, I discover the 8g English Language Arts teachers plan to assign a book report instead of doing the novel study. I see my initial plan coalesce into my true vision for building our topical Historical America collection. I approach ELA about the upcoming Social Studies Historical America project, and they agree that students can use the same book for both projects! I assure them we have enough books for the entire grade, with a few additions through Inter-Library Loan.
Always alert for unique and meaningful assessments that fit with my lesson ideas, I'd found a Bio-Cube on ReadWriteThink that, with a few modifications for content, will be perfect for this assignment. I show the ELA teachers and they are delighted to use it. On each side of the cube students write "biographical" information about a chosen character from their historical story:
character's name and personality traits
personal background
time period and location of story
significance in U.S. History
biggest obstacle to overcome and pivotal choices (grading period theme) character makes
important quotation from story
Copied to colorful paper, then cut & pasted together, finished cubes are suspended from the ceiling in the ELA classrooms. They are a real conversation starter for classroom visitors. Students also write a one-page summary of bio-cube information that contains a reflection segment.
LOOK AHEAD FOR POSSIBILITIES
We've done this cross-discipline project off and on over the years…all because I could envision a curricular Library Lesson and build a collection to implement it. I've used this same process to build other mini-collections, such as careers books, print/audio book kits for ELL, Spanish language books for grade level Spanish classes, science fair project books, earth science books & environmental books for science classes, and multicultural craft books for art classes.
As school librarians, it's our responsibility to develop a library collection that doesn't rely on generic 'balance,' but one that supports our grade level curricula. More than that, we must also create Library Lessons that use those materials for meaningful classroom activities and worthwhile assessments.