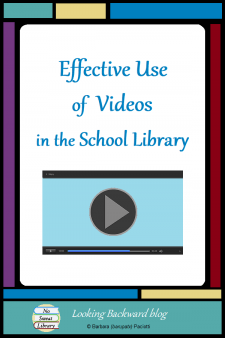 Everyone loves a good video. It captures students' attention in a way no other teaching device does. Oh, we do many tech and non-tech hands-on activities with students, but video effectively introduces informational material better than anything else. I find students even prefer narrated slides presented as a video!
Let me clarify that I've used video with students for 25 years, from science laserdiscs with at-risk high school students to online streaming as a middle school librarian, but I don't show a whole movie, TV episode, nor any video that runs more than ~15 minutes—even Bill Nye gets old after 15 minutes!
We can find effective, short videos available FREE of charge from several educational providers. For example, the U.S. Government offers free Online Safety videos on the FTC Consumer Information website. At times, however, the only way to use video to present a concept is by making one ourselves. I offer here a few videos I've created for student instruction using desktop and online applications. Feel free to use any of them for your own library instruction!
LIBRARY ORIENTATION VIDEOS
Library Orientation is the first library visit of the school year. Our lowest-grade-level students are new to the school and library, so we need to help them feel at home in this strange new environment. I have a short activity to familiarize them with the Fiction area, then show them a video I created on "How to choose a good book" to read. Students follow along with a small ¼-sheet checklist, which they then take with them to find their first Fiction book to check out. I created this as a narrated Microsoft PPT, then saved as a video.
It's silly for students to hang on to a book for weeks without finishing it, so I address this at all grade level orientations (2nd visit for newbies, 1st visit for higher grades) using this video. I created "Use the 20-page Guide to Decide" on GoAnimate.
ACADEMIC HONESTY VIDEO
My Academic Honesty lesson uses short videos to great advantage. To meet National School Library Standards for conceptual understanding and CCSS for documentation (bibliographic information, citation, plagiarism), I teach 3 legal concepts—intellectual property, copyright, and fair use—with a flow of videos that imparts these complex concepts in a meaningful way, yet the total of all video time is only 14 minutes.
When teaching intellectual property I discuss bibliographic citation, and I find students (and many adults) are confused by the term "cite," so the first video I ever created alleviates the confusion between 3 homophones. Here is my "Sight-Site-Cite" video, created with Windows PhotoStory.
AN EXAMPLE VIDEO BOOKTALK
We know it's important to show students the kind of end product we expect when we assign a project. That's particularly true for technology products they've not done before. To preview an upcoming ELA assignment, I created this "Video Booktalk Example" to show them how easy they are to make. I actually created two. Here's the first I made by uploading photos to Adobe Spark and adding text and transitions:
Here's the nearly identical one I created with Google Slides, uploading the photos, adding text, and downloading each slide as an image, then uploading all of them to Kizoa to create the video.
If you've watched these 5 videos, you can see how, in only 9½ minutes, the power of video can be very effective to introduce procedures, explain complex concepts, or model examples to students.
These embedded videos are all from YouTube. You can also find them on my Vimeo page! Better yet, download a FREE PDF linked list of all my media from the FREE Librarian Resources page.