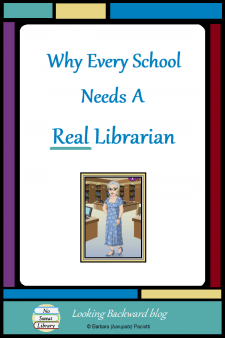 Despite overwhelming evidence that school librarians positively impact student success, fewer schools than ever have them. Recent articles have revealed:
Fewer than 50% of New York City public schools have librarians.
Fewer than 40% of Chicago Public Schools have librarians; only 32% of the high schools have them, and when the majority of a school's population is African American, the figure falls to 15%.
Fewer than 10% of California public schools have librarians.
The worst: Philadelphia's public schools have 8—that's not 8%, that's 8 librarians. One of the nation's largest school systems—a district with 220 schools and 134,000 students—has only 8 certified, full-time school librarians. The State of Pennsylvania doesn't require K-12 public schools to have libraries. Prisons must have them. Barber and cosmetology schools must have them. They are compulsory in nursing programs. But in public schools they are optional.
RESEARCH ON SCHOOL LIBRARIANS
At a time when schools are expected to produce 21st century citizens capable of competing in the global economy, these situations are ignoring one simple fact: more than 50 years of research demonstrates a high correlation between student achievement and having a certified school librarian. The School Library Impact Studies show a positive relationship between libraries and student achievement in 21 different states for over two decades, especially between school library programs and students' reading test scores. Here are some specific findings:
A certified school librarian impacts student achievement more than:

per-pupil spending
teacher/pupil ratio
minority education
adult education level

Only poverty has a higher correlation to student achievement, and there's evidence that school librarians can even prevail over poverty:

Students who are poor, minority, and have IEPs, but who have full-time librarians, are at least twice as likely to have "Advanced" writing scores as their counterparts without full-time librarians.
Hispanic students with a full-time School Librarian are

three times as likely

to earn "Advanced" scores on writing tests than their peers without access to one.
Other school library factors that directly influence student achievement are:
Flexible access to the library during the school day and extended hours before & after school
Collaborative lesson planning between the school librarian and teachers
Increased library visits for whole classes & for individual students
Currency & range of book collections and online subscription services
Digital literacy training from the librarian for both students and teachers
You can download a PDF of the "Did You Know?"
presentation of research from my FREE Librarian Resources page!
WHAT IS A CERTIFIED SCHOOL LIBRARIAN?
School librarians are often the most misunderstood and least appreciated folks in a school. Their colleagues and principals don't realize that they must have teaching certification and teaching experience before they can even enter a school library graduate program. Most secondary-level school librarians also have a master's degree in Library Science. Then they must pass a rigorous state test to be certified as a School Librarian.
Why would a school librarian need a master's degree? Having a teaching certificate and years of experience just isn't enough to manage a whole-school library program:
We must have an in-depth understanding of national/state curriculum standards to fully integrate library skills into classroom activities.
We must know how to build an extensive collection of library materials in a variety of formats to meet the needs of every teacher's curriculum, and to meet individual students' reading needs and preferences.
We must have a comprehensive understanding of intellectual property, copyright, and fair use guidelines for purchasing a variety of materials and to advise teachers & administrators on their proper use.
We must have the specialized technology skills to manage and use audio/video/digital equipment & applications.
We must have financial skills to administer a budget and take advantage of outside funding opportunities.
STUDENTS & TEACHERS & SCHOOL LIBRARIANS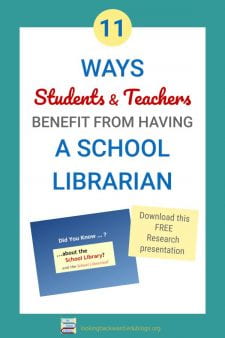 Students need a certified School Librarian who can guide them in:
research & problem-solving skills
reading for information and for pleasure
safe and responsible Internet use
…as well as offering them the opportunity for:
design thinking and makerspaces
media production and technology training
some good old-fashioned hugs and conversation.
Because certified School Librarians are also certified teachers, they can help other teachers plan lessons:
based on curricular Standards and best practices
scaffolded to build knowledge and skills
using high-quality resources in print & digital forms
that seamlessly integrate new technologies
with meaningful activities to practice learning
that help increase student achievement
…and they can also offer teachers some good old-fashioned hugs and conversation.
---
Here are websites where the above information and more can be found: